So...something new for the blog. I decided to try gel nail polish at home. At the moment, I'm painting my nails almost daily, and I wanted to see if I could maybe try gel and do it just once a week or so. Plus, the idea of nails that chip less easily is appealing. I looked around for a while, and came across
SensatioNail
. I spent my birthday money on the
Super Deluxe starter kit
, and it arrived today (two days later!)
The process was much easier than I had hoped. You need only to lightly buff the nails, clean each nail with the gel cleanser (which I guess is rubbing alcohol) apply a layer of primer (I just applied this around the edges of my nail as I hear it makes for easier removal) apply a basecoat and cure for thirty seconds, then apply two thin layers of colour, curing for sixty seconds after each. The whole lot is finished with the topcoat, which is then cured for thirty seconds. The weirdest part is removing the moisture layer that makes the nail feel sticky - basically, you rub your fresh manicure with alcohol and feel like it's going to smear all over the place. It doesn't, of course...weirdest sensation. The feeling of having newly done nails but no fear of smearing, denting or otherwise ruining them is really quite nice. The whole process took me about 45 minutes.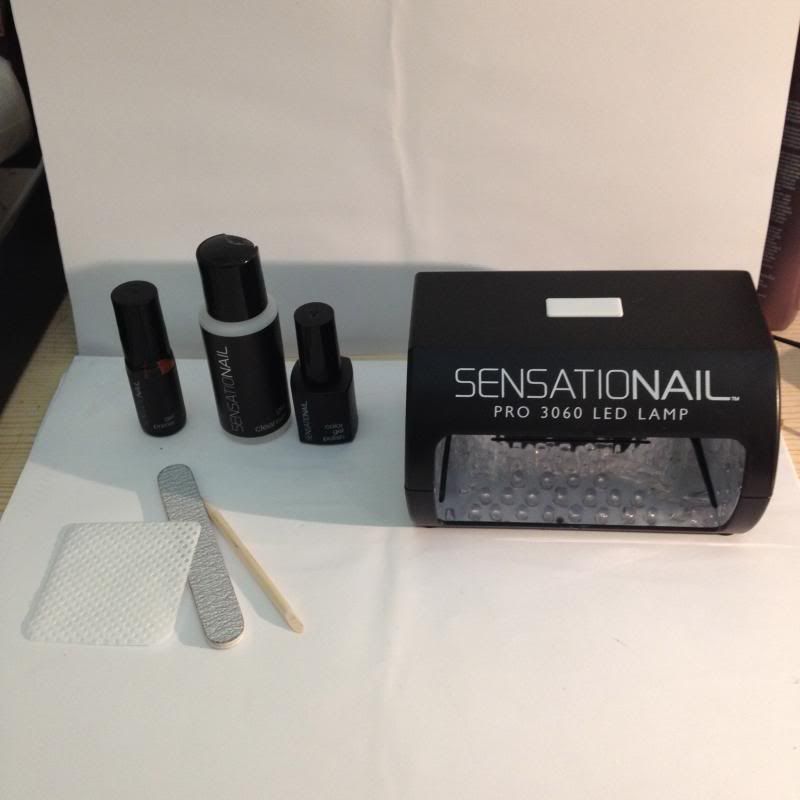 My first SensatioNail set up!
SensatioNail in Kitten Heel
As you can see, I went for a lovely pink for my first attempt. Kitten Heel seemed almost perfect in two coats. My left ring finger shows a tiny bit of visible nail line, but this is likely due to an inconsistent thickness in the layer of polish. I was worried that painting with gel polish would be somehow different, but it was more or less the same as standard polish. The gel goes on smoothly and the brush was the perfect size for me - not one of those wide monstrosities I can't stand! I also managed to get a fairly decent cuticle line, and I suppose that this can only improve as I get used to the process. When I was researching gel polish, one of my main concerns was removal, so I intend to do a removal post when I take it off.
Overall, I'm pretty happy with my first attempt, and I can't wait to try more of the colours!
Thank you for reading!
*all products purchased by me! I have no affiliation with SensatioNail or Nailene.